Encapsulated Baking Powder
Encapsulated Baking Powder allows optimal control of leavening. Sometime used in combination with fumaric acid to provide a better adjusted leavening system at a reduced cost. Tortillas produced have a better flavor, less translucency and improved texture.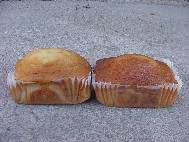 The Mantecada on the left was made with Encapsulated Baking Powder, and the one on the right is the control.
Encapsulated Fumaric Acid
This product prevents premature reaction of baking ingredients and makes tortillas with more volume and improved texture.